Hello, I am Nagata.
It might be too late, but curry has been my fad lately. Here in Japan, there are many curry restaurants serving big nan bread and you can take it as much as you want, but today's curry is Japanese curry with rice.
And today's my curry diary is about a curry Restaurant "Yokohama Hammar", just 24 seconds by walking from Hakuraku Station.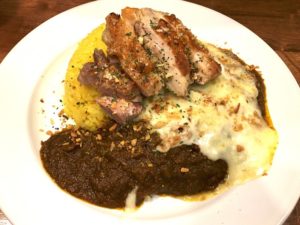 Chicken-steak curry with large portion of rice, cheese topping (1,050 yen)
Curry served here are free of gluten, flour and chemical seasoning.
One onion is included in this meal and the taste was fruity.
This time was chicken steak this time, but since I can also enjoy various other toppings, I will be looking forward to what to do next.
There are not only two types of pickles on the table but also Nampura with blue peppers specialized in Hammar!
Hey hey, Nampura match with curry? Oh wait, The tears came out irresistibly because it was too delicious…
I want to live by eating only this curry. It was my decided day.