Room viewing from anywhere with your PC or smartphone!Now accepting online inspection!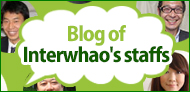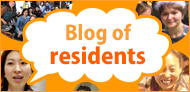 Recommended House!
Renewal Open in March 20th!!

Firsthouse Haneda Otorii is close to the entrance to the world which is Haneda Intenational Terminal station with 4 min for 3 stops. Also, you can come to the house without waiting for the traffic light with only 3 min walk. 14 min for Shinagawa station, and 28 min for Higashi Ginza station.

In this nice place for a good for international job, a room in the 2nd floor is 13.8㎡, and one in the 1st floor is 12㎡. The shower room and water sink is only for women in the 2nd floor.

Firsthouse Omori is only 8 min walk from Omori station in JR Keihin Tohoku Line where it is 2 next stops from Shinagawa station. You can go to Yokohama station by train for 18 min. Therefore, it's very easy to go not only to Tokyo direction but to Yokohama area!Supermarkets, convenience stores, and drug store are very close to the sharehouse so this environment must be convenient compared to other areas in Omori.  Common spaces and some rooms have been renovated in 2017, so you may really like this sharehouse!

The size of all rooms are about 10㎡ with good sunshine!! Shower rooms and bathrooms are separated in men and women. And the entrance is electric auto-locked so the security is good!! Since it is close to the station, it is convenient to go for shopping at a supermarket, convenience stores, book stores, drug stores, cafes, and so on.

Interwhao's basic idea
SDGs are deeply ingrained in many governments and finances in the world, and are an important category in the living space we operate.
It is also an important value in the composition of the "Investment fund" which already supports the development of the economy.
Since our establishment in 2000, we have continued to provide comfortable living space for people with diverse values who gather from all over the world.
Our staff, like an airplane captain, play a stable role in providing living space.
A living space composed mainly of people in their twenties and thirties aims to give a better circular economy to society with kindness and vitality.
We also ask property owners and tenants to understand this sense of values. And we aim to continue and develop the provision of vital living space in the future.
A vibrant city and the shared values that take root in that city
The SDGs also consider housing as a crucial element as one of 17 basic goals.
We do not have our own development goals based on this idea.
However, we believe that there is something we can do.
We aim to provide living space where tenants realize growth and revitalize the building based on the shared economy philosophy.
We will provide as a common sense of value the provision of sustainable living spaces that can continue to provide peace and energy to a vibrant city.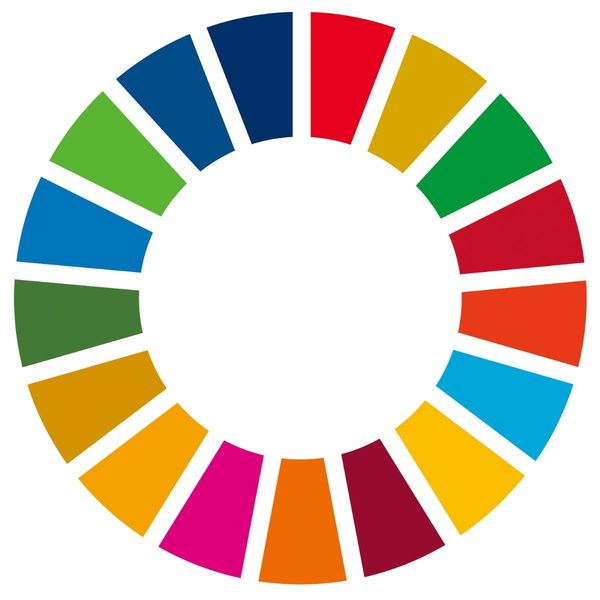 The SDGs (Sustainable Development Goals), adopted at the UN Summit in September 2015, are the goals the 193 member states of the United Nations have set to achieve in the 15 years from 2016 to 2030.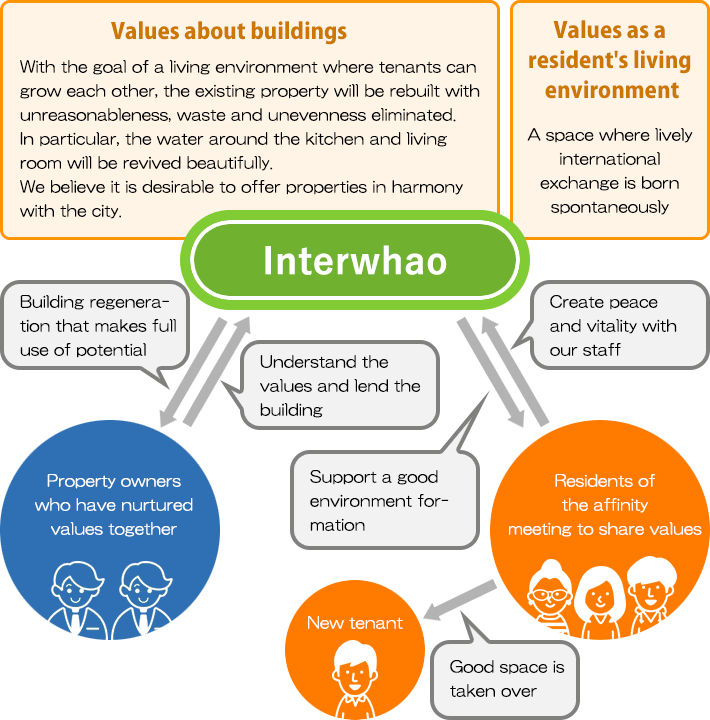 Providing a living space where Interwhao can live for a long time
・Reproduce existing building resources effectively.
・Connect the residents who aim at self-realization through the living space provided by our company.
・Bring energy to the town.
・Borrow all or part of the available buildings and sublet them to corporations and individuals to revive their building resources.
Operation example
Operation type

Share house

number of rooms

53 rooms

Operation start

April, 2022

Current status

The house is located in a quiet area with beautiful greenery and has courtyard and 5 common spaces. By sharing them according to your daily rhythm, you will enjoy a slightly richer life with diversity.



Firsthouse Haneda
Previous building operation

A certain restaurant chain's dormitory

Operation type

Share house

number of rooms

9 rooms

Operation start

April, 2020

Current status

Only 3 stops, 4 minutes to Haneda Airport Terminal Station, close to the gateway to the world. 3-min walk from Otorii Station without traffic lights. 14 mins to Shinagawa Station and 28 mins directly to Higashi-Ginza Station. A great location for international work. The entire building is non-smoking, perfect for those who love cleanliness. The 2nd floor has a shower room with a washbasin for women, making it very convenient for business women.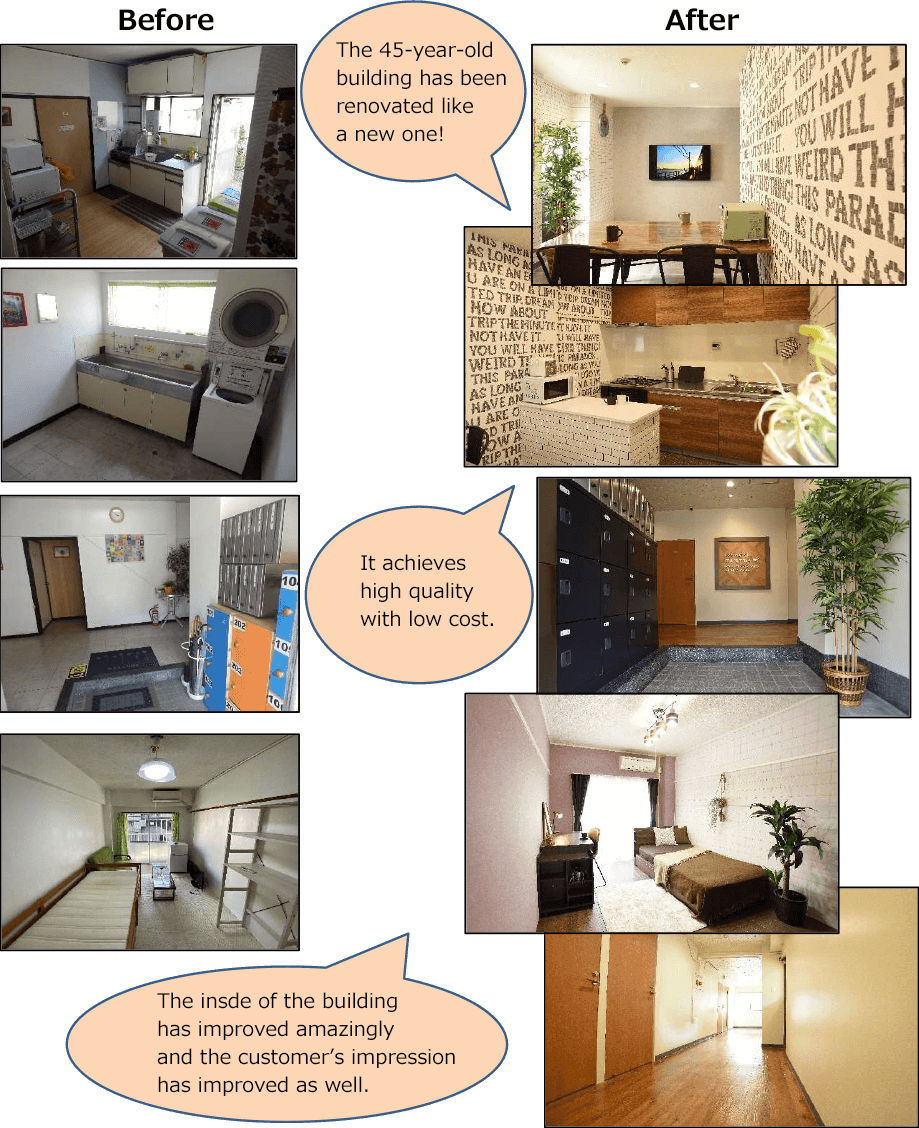 Firsthouse Takaido Suginami
Previous building operation

dormitory of Mitsubishi Electric

Operation type

Shared house

number of rooms

24 rooms

Operation start

July 2019

Current status

Vibrant domestic and foreign residents and our staff will provide a lively living environment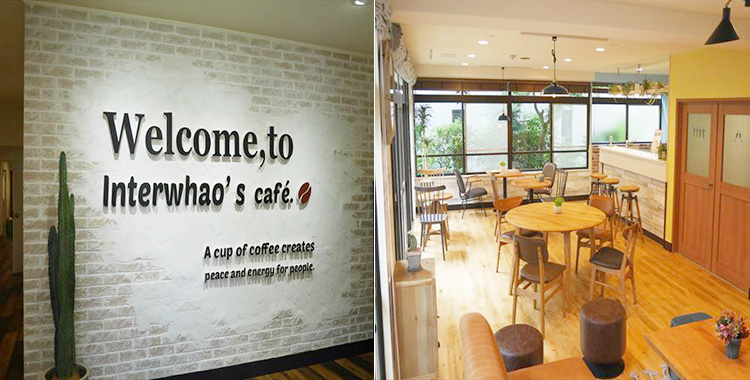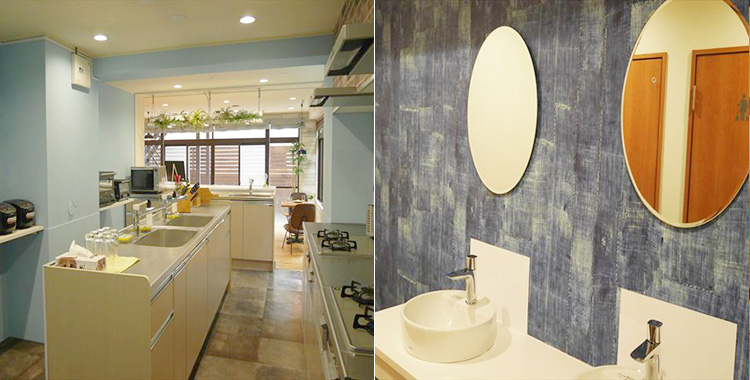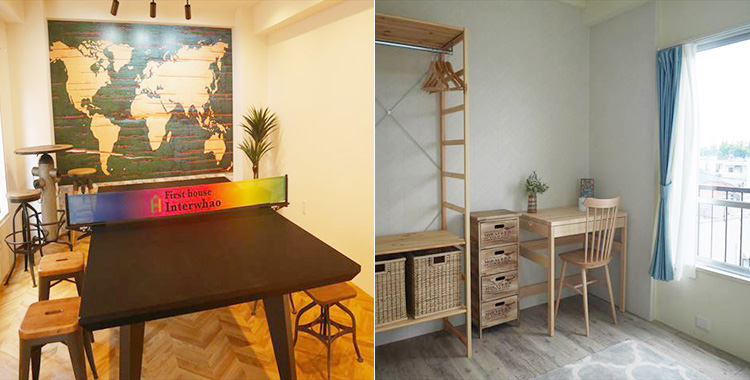 Previous building operation

single dormitory of Fujitsu Limited

Operation type

Shared house

number of rooms

40 rooms

Operation start

April 2017

Current status

It has been transformed into an international share house.
At the time of the Futako Tamagawa Fireworks Festival, you can see a better exchange of foreigners and Japanese who enjoy in your first yukata.
You will find a relaxing space to relax when you return from work or school.
It also offers a liveliness to the city.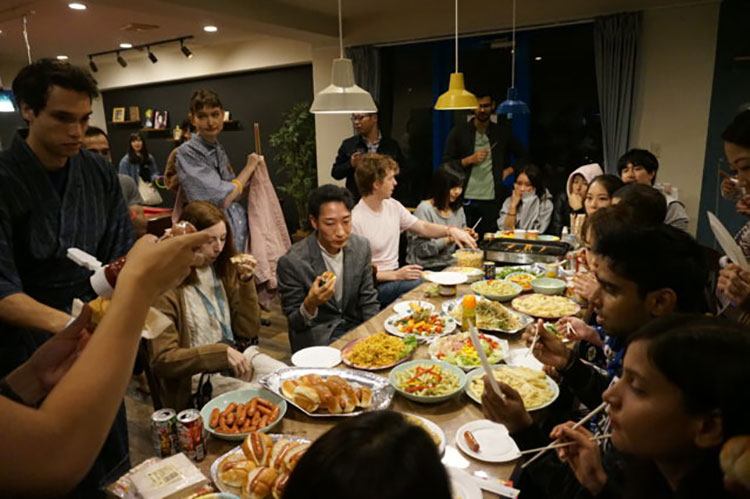 Company outline
Corporate name
Interwhao.co.,ltd
Office
〒227-0051 26-1 Chigusadai Aoba-ku yokohama-shi
MAP

The office is in the fujigaoka-guesthouse.
Phone number
045-979-0674
FAX
045-979-0675
URL
https://www.interwhao.co.jp
Date of foundation
Since August in 2000
Capital fund
\80,550,000
Executive officer
CEO Takashi Miyagi
Number of a staff
14(Official staff 8 Non official staff 6)(August 2014)
business purpose
Estate(Guesthouse・Studiotype apartmrnt)
Main trading partners
Real estate residents, and its general public
Find Share Houses
Location Search
Easy access to
Search from the rent
Features search