Minami Urawa is in Minami-ward, Saitama Prefecture, Japan.
Minami Urawa station has two trains; JR Keihin Tohoku Line & JR Musashino Line.
JR Keihin Tohoku Line runs to Oomiya direction, stops at Ueno, Akihabara, Ueno, Tokyo, Shinbashi, and other main big cities in Tokyo without transferring a train. In addition, it goes to Yokohama and Kawasaki, main big cities in Kanagawa prefecture. So it is a very very convenient train line.
Minami Urawa is the start station of JR Keihin Tohoku Line, so you can sit on a seat when you go to work and school!
JR Musashino Line runs to Chiba direction. Therefore, you can go to South Kanto area (Tokyo, Kanagawa, Chiba, Saitama) from Minami Urawa station!
Well, this is awesome!! I always wonder where I'm going to.
Both of train lines have a number of trains. (They come every 5 minutes approximately) So I feel fine even when I come back late at night.
"I understand how convenient area to access but how's this town like?"
There is no big company in Minami Urawa. Basically, this is in a residential area, so this area is calm and relaxing with many parks and full of green.
There are supermarket, convenience store, drug store, fitness gym, dentist clinic, beauty parlor, restaurants, cafes, book stores, 100 yen shops, and more.
There are lots of second school in this area. Children, junior-high-school students, high-school students walk around at night. This proves the safe environment of this area.
So!
We have a sharehouse in Minami Urawa (Main topic) , Firsthouse Minami Urawa!
Firsthouse Minamiurawa is 3 min walk from Minami Urawa station! (How close!)
Since it is close to the station, it is easy for shopping!
There are 55 rooms in this sharehouse made of reinforced concrete.
Currently, the common spaces and rooms have been renovated (under construction)
There are some parts which have been done already.
●Lounge
<Before>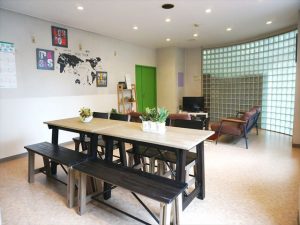 <After>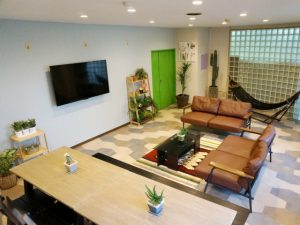 ●Shower
I couldn't find pictures of the previous form of shower rooms…
<After>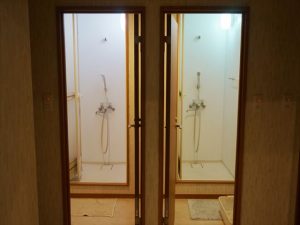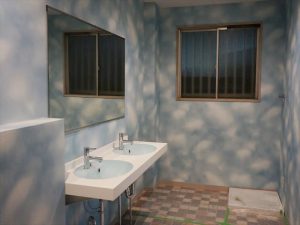 The pictures above is only for men. It became cleaner and brighter!
The pictures below is only for women. Looks like elegant.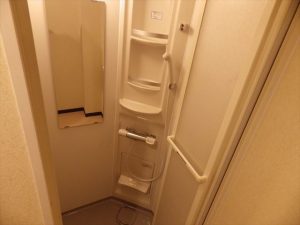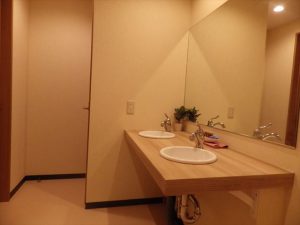 ●Bathroom
We have managed Firsthouse Minami Urawa for a long time and the building is a little bit old, so there are Japanese style and western style of bathrooms in this house but the demand of young generation has been increasing. So we changed all of them to western style! Men and women are separated.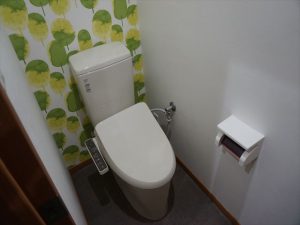 ●Room
Still under construction but it is almost done. All rooms are 9.9㎡ with a private room and key, and there are bed, refrigerator, air conditioner, desk and chair in all rooms.Easy to start your new life!
The pictures after the renovation will be soon updated in the property's page so you gotta check this out!
Even though "Firsthouse Minami Urawa" is close to the station, the rent is very reasonable.
It is kind for your wallet.
The average rent in Minami Urawa is approximately more than 50,000 yen (500 dollars). (depending on the distance from the station, building age, the size or the structure)
The rent of Firsthouse Minami Urawa is 45,000~48,000 yen. (Less than the average)
Plus, utilities fee (internet, gas, water, electricity ) is 12,000 yen (Fixed cost) so the monthly rent is 57,000~60,000 yen.
Fixed cost is a good thing as the characteristic of sharehouse. If you live in a normal apartment, you have to think about saving money.
Since we upload the pictures of the brand-new renovated sharehouse, we have many inquiries…
Honestly, the number of vacant rooms is decreasing so we may not be able to show you this new sharehouse.
The rooms under construction will be finished at the beginning of October but you can come and view this sharehouse before that.
The inquiries are from Japanese and international people in their 20's and 30's, and residents are the almost same generation. So Firsthouse Minami Urawa will be more active and lively.
At the end of October, the house manager plan for Halloween party.
Why don't you just start your new life @ Firsthouse Minami Urawa??
The house manager also lives in this sharehouse, so you can hang out with him and enjoy this area and this sharehouse!!
We are looking forward to your inquiry!