In May, the managers have been assigned to different areas.
I used to go around Oota-ward in Tokyo but now I manage the sharehouses in Yokohama.
Interestingly, the areas that I used to go and will go to are full of green.
My family home is near Nakayama and Aobadai, and I used to Gumyouji in Yokohama.
I will make an effort to report the environment and the real sharehouse.
Anyway, I will write about the atmosphere of Firsthouse Yokohama Aoba.
Great things @ Firsthouse Yokohama Aoba
1.Lively lounge of common space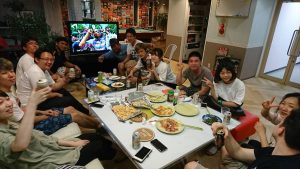 I watch TV with drinking and eating in the lounge almost everyday. There was only 1 or 2 persons at first. But, more and more residents come here, and eat and drink together. This is a normal weekdays, Wednesday night.
Everyone lives in this sharehouse, so they don't have to worry about drinking too much or the last train.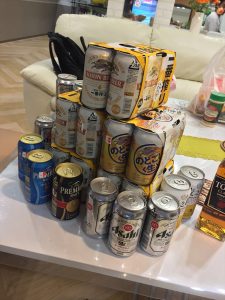 Beers are accumulated by themselves…
2.Everyone playing pool seriously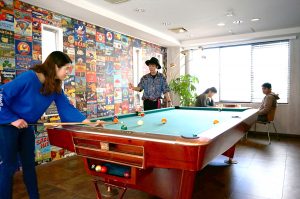 There is a billiard table at this sharehouse! Usually, those who are drinking play it at night. This picture was taken around at noon so it looks calm, but it will be harder and more serious at night. The interesting thing is that we play tournaments by separating countries such as Japanese team vs Indonesian team.
We are country representative! In my opinion, foreigners are good at playing pool.
3.Fantastic art on blackboard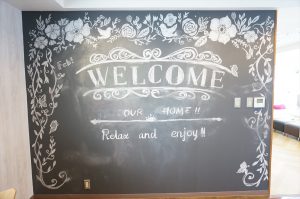 The whole wall is blackboard. Recently, residents are free to decorate it such as Pikachu of Pokemon, Draemon, and some characters of anime.
I will upload the changes of blackboard later.
Wow, I will stop buying cheap chalk…
I'll stop here now. There are so much things that I can't explain in words. If you are interested in this "Firsthouse Yokohama Aoba", please come and view the real Firsthouse Yokohama Aoba!
★☆★ 10 min walk to Aobadai station in Tokyu Dennentoshi Line: 25 min to Shibuya station     ★☆★