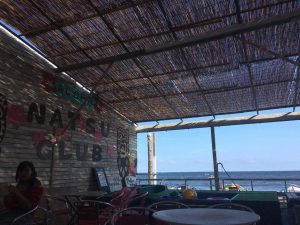 There are a lot of day trips around Kanagawa if you want to get out of the city. From Ichigao Station it takes around an hour to get to Enoshima island and Chigasaki beach. A few weeks ago I visited Chigasaki South Beach. After arriving at Chigasaki Station it's around a 20 minute walk to the beach. The area is known for surfing so waves can be very rough. You can dip your toes in the ocean even if the waves are too wild to swim.
The beach is long and you can walk along and admire the coast scenery and see Enoshima island in the distance.
Along the beach there are lots of restaurants serving delicious food, drinks and icecreams and places to sit in the shade and take a break from the sun. I recommend trying some Hawaiian food from the friendly vendors. As it got darker, we saw people using sparklers and it was a great place to watch the sunset. It has a very relaxing feel and is a perfect break from the city.