Good evening!
I've been busy being close to the end of the year.
For the new year as well as welcome a new house mate, we are preparing many things in many sharehouses!
So I'll report one of sharehouses under the construction "Firsthouse Oomori" in Tokyo this time.
Rooms are still being under construction but let's get started with the common spaces we renovated!
Here we go!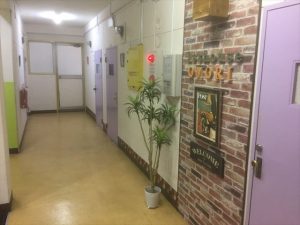 This is the wall at the entrance!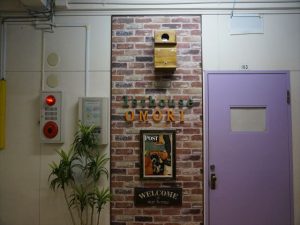 The professionals helped me a little but we renovated the wall paper and made Pigeon box by myself.
The signboard with the name of the sharehouse "1sthouse OMORI" has the good balance in color, I think.
(I painted the name as well)
The small bird also welcomes you to this sharehouse (No pet though…)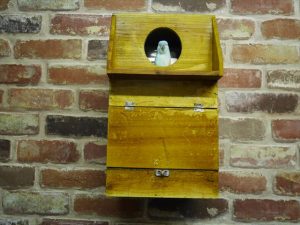 And also…
To the shower rooms,
I changed to the new floor with antique design and changed the wall paper with light green.
Changing wall paper is too difficult because this was the first time for me.
It was heavy so the wall papers were tore apart…OMG!
Well, the professional is professional. I really respect them.
It was like a puzzle when I was trying to change the wall paper.
But when I came to Firsthouse Oomori the next day, it looks almost fine, which relieved me.
We do what we can do without offering the professionals so that we can reduce the cost, which leads to providing the rooms with the reasonable rent.
One of the interesting things to live in sharehouse is to be able to see the daily changes (not everyday…)
I recommend this sharehouse for those think moving in for next year
because Oomori station is only 7~8 min walk away from the house and you can go to "Tokyo station" "Shinbashi station" & "Yokohama station" "Kawasaki station" without transferring a train, so it is very easy to access to the main business cities from Omori.
You should check this out!